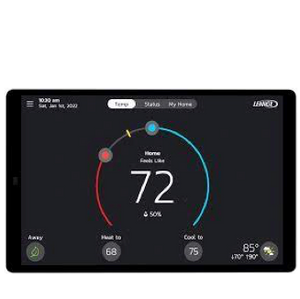 Lennox iComfort S40 Ultra Smart Thermostat
The ultimate control for more precise comfort.

HD TOUCHSCREEN PROVIDES A MODERN LOOK
COMPLEMENT YOUR HVAC SYSTEM & THERMOSTAT WITH ADVANCED ACCESSORIES SHOWN BELOW.

PRECISE COMFORT TECHNOLOGY HOLDS YOUR HOME'S TEMPERATURE TO WITHIN 0.5°F OR LESS WHEN PAIRED WITH THE SLP99V FURNACE
REMOTE CONTROL FROM MOBILE DEVICE VIA HOME WI-FI
ACTIVELY MONITORS SYSTEM OPERATIONS AND NOTIFIES HOMEOWNER AND DEALER OF SYSTEM PROBLEMS
DEALER CAN REMOTELY TROUBLESHOOT POTENTIAL PROBLEMS
ALLERGEN DEFENDER MONITORS AIR QUALITY IN YOUR AREA
MONTHLY PERFORMANCE REPORTING
SMART AWAY MODE INCREASES SYSTEM EFFICIENCY
SCHEDULE IQ ADAPTS PROGRAMMING TO CHANGES IN SETTINGS
FEELS LIKE FEATURE COMBINES TEMPERATURE AND HUMIDITY SO YOUR HOME FEELS EXACTLY THE WAY YOU LIKE IT
COMPATIBLE WITH AMAZON ALEXA AND APPLE HOME KIT
10 YR PARTS WARRANTY
UP TO 3 YR LABOUR WARRANTY
COMPLEMENT YOUR SYSTEM WITH OUR SUITE OF TECHNOLOGICALLY ADVANCED ACCESSORIES - THE LENNOX SMART AIR QUALITY MONITOR, THE LENNOX SMART ROOM SENSORS, PLUS THE LENNOX WIRELESS EXTENDER - AND ENSURE YOU GET THE MOST FROM YOUR COMMUNICATING EQUIPMENT. ALTOGETHER, IT'S THE MOST ADVANCED ACCESSORIES PACKAGE AVAILABLE THAT DELIVERS NEXT-LEVEL PERFECT AIR.